As the first-born in a comfortable middle class family, Varma's birth as welcomed both by her parents and relatives. She owed her eclectic intellect to her father, a professor of English, and equally to her mother, whose recitations of the religious compositions of Bhakti saints, especially Mira, left a lasting imprint on Varma's young mind.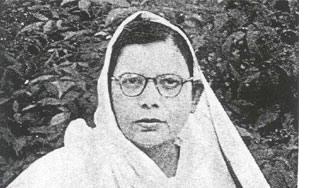 Interestingly, Varma would go on to win recognition in the Hindi literary world as an 'adhunik' (modern) Mira; observers of her life have also tried to seek similarity in the personal lives of both women, who renounced their spousal roles in pursuit of their own identites.
Just nine years old when she was married, Varma was nevertheless permitted to pursue her studies first at home and later at school and college. A competent student, she went on to finish her Masters degree in 1932. When she grew older, rather than making marriage her career, Varma decided to take up a profession. An early experience that was never addressed directly by her -- or satisfactorily explained by literary essayists -- left her disenchanted with marriage. That fact alone may have caused what can well be perceived as the leap from female to feminist. This fashioned not only the course of Varma's subsequent life, but also her creative talent as well as her intellectual and practical activism on behalf of women.
Like some other educated women of her time, Varma turned to writing, public service and teaching as a way to exercise her intellect and express herself. Her decision to write prose and poetry and attend 'kavi sammelans' (poetry festivals) was daring for those times. Luckily, she had a soul sister in the equally gifted Subhadra Kumari Chauhan. Together, they became the leading edge of a small sorority of poet-writers poised to enter the hall of literary fame in the Hindi language.
Although women writers were attaining recognition in other regional languages, Varma's uniqueness lay in her commanding parity with men and being widely recognised, along with Nirala, Pant and Prasad, as one of the four founder-leaders of a new romantic school of Hindi poetry termed 'Chhayavad'. Her creative energy led Varma to author over five volumes of poetry and several volumes of memoirs, essays and literary criticism. Her poetry and prose quickly earned her recognition as one of India's most lyrical and intellectually prolific writers.
A brief biography of Mahadevi Varma is available on the following website: http://www.indiatogether.org/women/people/varma.htm