Honoré de Balzac, a French writer and journalist regarded as one of the forerunners of realism, was born in Tours in 1799. In 1814 his middle class family moved to Paris, where he later was trained as a lawyer and attended both the Collège de Vendôme and the Sorbonne. Though he produced several novels prior to 1829, he went largely unnoticed as an author, having to supplement his writing career by working in law offices. He also bought a publishing company and printing house, both of which failed, leaving him in debt.
In 1829, however, Le Dernier Chouan (later called Les Chouans) was published. This historical work, written in the manner of Sir Walter Scott, finally garnered Balzac some recognition. Between the years 1830 and 1832 he published six novelettes titled Scènes de la Vie Privée, and in 1833 he decided to link all of the novels together to mirror the whole of society. In sum, he produced 90 novels and novellas comprised of more than 2,000 characters. These works are collected under the title of La Comédie Humaine. His greatest masterpieces in this compilation are often considered to be Le Pére Goriot, Les Illusions perdues, Les Paysans, La Femme de Trente Ans, and Eugénie Grandet. There are several recurrent characters, such as Eugène de Rastignac and Henry de Marsay, who make appearances in twenty-five separate novels.
Balzac corresponded with a rich Polish friend, Eveline Hanska, for fifteen years before marrying her in 1850. He died three months later.
The images below are from a series of illustrations made by Pablo Picasso for Balzac's Chef-d'oeuvre inconnu: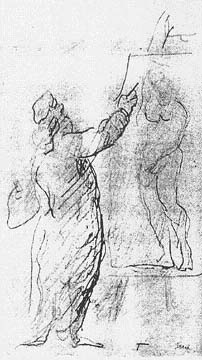 The artist Frenhofer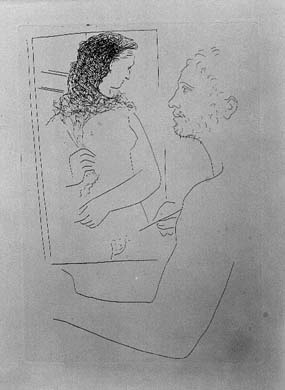 The painter looking at the canvas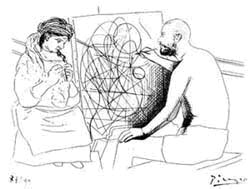 The painter with the model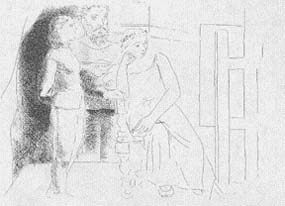 Gillette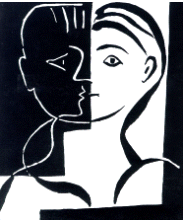 Another illustration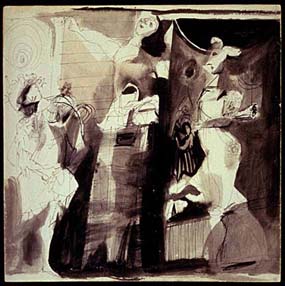 A 1934 drawing, alleged to be Picasso's "unknown masterpiece." (See this web site for a discussion of the Balzac-Picasso connection and of this 1934 drawing in particular.) On that site, Mark Harris argues as follows:
Balzac's story is set in the Seventeenth century at a studio in the rue des Grandes-Augustins in Paris. It unfolds around an aging artist called Frenhofer, who is the greatest painter of his day. Frenhofer reveals to two of his ardent admirers, Pourbus and Poussin, that he has been working on a secret painting which has for years consumed all his creative powers. Pourbus and Poussin then scheme to get Frenhofer to show them the painting by procuring a beautiful young model for its completion. When they finally see the Unknown Masterpiece it appears to be nothing but a mess of lines and layers of paint which they immediately interpret as being the work of a raving madman.

Picasso identified with Frenhofer and was fascinated by Balzac's eerie story. In the 1930's, as if by a strange twist of fate, he rented Nº 7 rue des Grandes-Augustin, which he and others believed to be the the house in which the story begins. It was at this address in 1937, exactly one hundred years after Balzac's final version, that Picasso painted his most famous masterpiece - Guernica.

Picasso later claimed to have been haunted by Balzac; and there seem to be strange parallels between Frenhofer's Unknown Masterpiece and the 1934 drawing. As with Frenhofer's painting, the drawing seems to be the product of an extraordinary creative process. Its existence also appears to have been kept a closely guarded secret. Similarly, at first encounter, the drawing appears to be a mess of lines and smudged inks, yet what it contains is probably the most complete convergence of themes in the entire range of Picasso's work. For these reasons, it seems that the drawing was probably intended to be Picasso's version of the Unknown Masterpiece.